Courses, Units or Modules
My Courses
When you first visit LearnZone your My Courses section will be empty.
Once you have visited some course pages for the first time you will be automatically enrolled on them. They will start to populate your My Courses page where you will be able to find them quickly in the future.
Below you can see an example of My Courses with a number of course pages that have been added.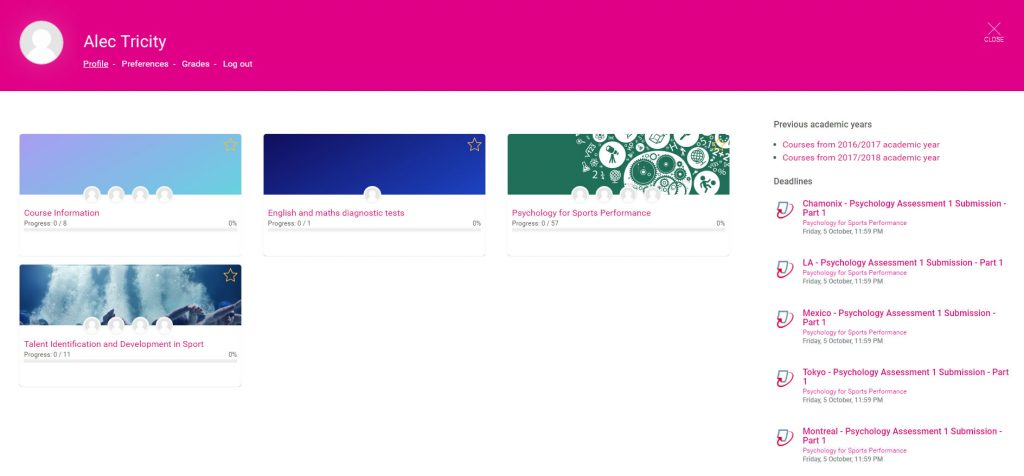 Finding a Course
To find your course in LearnZone, you will need to navigate through the categories and courses manually.
Select your subject area, your course name, and then the relevant module/unit from the options given. If you are struggling to find the specific module/unit your tutor will be able to help.
Enrolling on a Course Page
You may find that there are lots of categories and course pages within your subject area on LearnZone for example different Levels (1, 2 or 3) or Years (Year 1 and Year 2). You will need to navigate to the correct pages for you. If you are unsure, or having problems ask your teacher who will be able to advise you.
To enrol onto a course page, navigate to the one/s you would like to join and select it. The page will load and automatically enrol you, giving you access to the content your tutors have added.
Auto-Enrol is only enabled during September, so you need to visit all the relevant course pages by then. After this point you will need to ask your teacher to give you access to the course page/s.
Frequently Asked Questions (FAQs)
I don't know where to find my course.
If you can't find your course please ask your teacher for directions on where to find your course.
How do I find a course?
Click on the categories and follow a logical path to the course, unit or module you are trying to find.
I don't seem to have any courses in My Courses.
Every year FE LearnZone and HE LearnZone are reset, meaning you will need to re-find your courses and select them again before they appear in the My Courses section of LearnZone.  Once you've found and selected the course you will then be able to find it more easily the next time by selecting My Courses on the home page.
How to I find my assignment feedback from a previous year?
On the home page of LearnZone among the subject categories towards the bottom you will find category tiles for previous years' course pages for example '22/23 Courses' and '21/22 Courses'. You will not be able to submit any work, but you will be able to view any feedback you had in previous years.
I can't seem to log into the LearnZone.
If you are having issues with logging in, ensure you are using your college email address and normal password to log in. If you are still not having any luck, contact your teacher who should be able to help.
I can't find or submit my assignment on LearnZone.
In the first instance, you must contact your teacher to advise you where to upload your assignment submissions. It could be that the assignment hasn't been activated or the deadline has passed, so make sure you check with them before seeking help from anywhere else.