Read Aloud and Immersive Reader in Edge
Did you know Edge has Microsofts Read Aloud and Immersive Reader? To make it an even more accessible web browser.
You can use both features across the internet, taking web pages that may not be that accessible and making them easier to access, by being read aloud or presented in a way that is easier for the person to engage with. It's worth noting these features don't work with all web pages.
These features being built directly into the browser could really help with research tasks for example making it easier to find and process the information.
Read Aloud and the Immersive Reader can be found in the address bar (to the far right) of the Edge browser, however, they will only appear when they will work with the site you are looking at.

If you select the Read Aloud (A) button the Read Aloud bar will appear at the top of the browser allowing you to play, pause and skip forwards or backwards as a voice reads the content on the web page.
By selecting Voice Options you can adjust the speed at which the voice speaks and choose a voice from a list of different languages and voice types.
If you select the Immersive reader (book with speaker) button you will notice the whole page changes its appearance to make it easier for the person to concentrate on the key content of the page.
See the images below for the changes to a BBC News page.
Immersive Reader has some extra features found in tabs at the top of the page including, Read Aloud, Text Preferences, allowing you to adjust text size, spacing, font, column style and page theme. Grammar Tools, allowing you to turn on or off syllables, highlight parts of speech and show labels. Reading Preferences, letting you adjust line focus, activate picture dictionary or translate the text.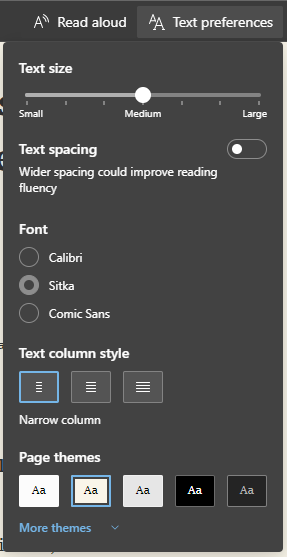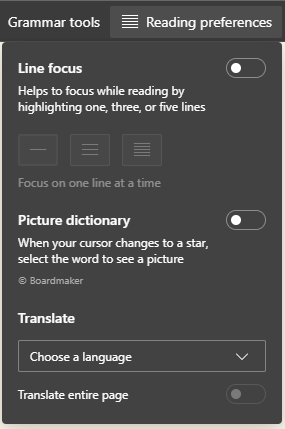 Frequently Asked Questions (FAQs)