Students' Union
All Loughborough College students are as much members of the Students' Union as University students! This means you can:
Be a part of the Loughborough sporting experience whether it's playing recreationally or working your way up into elite standard in a sport of your choice! Loughborough Students Athletic Union is THE major force in student sport having won the British Universities and Colleges Sport overall for 34 consecutive years.
LSU Rag is one of the biggest and best student fundraising organisations in the country and has raised over £1.4million in 2013-14 for local, national and international charities! Rag offers you the opportunity to raise money for charity by collections through Rag Raids or taking part in a range of challenging events such as the Colour Run, Tough Guy, climbing Mount Kilimanjaro, trek to China and much more!
Action is the volunteering section of the Students Union and there are projects for everyone to get involved with depending on your interests and the amount of time you can commit to volunteering. You can volunteer in one-off projects such as planting trees and painting playgrounds or weekly projects mentoring children in schools or preparing food for the local homeless and much more. Action is great for meeting new people, enhancing your CV and generally having a brilliant time!
The Societies Federation represents over 100 societies catering for a wide variety of activities ranging from hot air ballooning, skydiving, break-dancing and much more! Have a look at the Societies List to view all of our societies! If you can't find one that suits you, you can start up your own society and share your interests with other students at Loughborough!
Join an award winning Media group…
Loughborough students' media provides the opportunity to work in a magazine, radio or TV station providing a real chance of securing employment in Media! This can range from working in journalism, production, presenting, camera operating and much more! You also have access to high quality training across a range of technical media disciplines and booking out equipment!
The Students' Union runs a regular entertainments programme that caters for everyone. We pride ourselves on hosting some of the biggest and best student nights in the UK, attracting fantastic acts from around the world and ensuring you have the time of your life as a Loughborough Student.
College students are eligible through their membership of Loughborough Students' Union to get an NUS Extra Card, and enjoy serious discounts on major high street brands!
Anyone can get involved with LSU and there are countless opportunities across the different sections. Enabling you to work your involvement around your studies and deadlines, you're free to undertake as much or as little as you want. It's a brilliant way to meet new people, try new things, develop new skills, enhance your CV and enjoy yourself! Make sure you have look at www.lsu.co.uk to get involved in everything Loughborough has to offer!
LSU – Phone:01509 635000 or Email: Union@lsu.co.uk
Volunteering
We are always looking for volunteers to represent the college at Open Days and other college events. This is your chance to talk to prospective students and parents about what it's like to be a student at Loughborough College. You will also be able to help other students settle in and find their way around.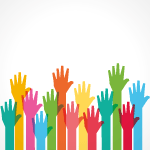 Volunteering is a great opportunity to learn new skills, have fun and meet new people. Whether you want to volunteer online, as a 'one off' or regularly, there are lots of opportunities available, through the Loughborough Student Union (LSU), in college and out in the community.
If you are interested in helping with events and activities, please contact:
des.gentleman@loucoll.ac.uk in the first instance.
Fundraising
Loughborough College and Loughborough Student Union's RAG actively encourage learners to get involved with fundraising so that we can raise as much money for charity as possible. Students can choose the charity they wish to fundraise for and can also get involved in special events such as Children in Need, Sport Relief and Comic Relief. Students can also arrange a collection of 'gifts in kind' e.g. food for the homeless, items for animal rescue centres etc. We will help you think through your plans and to make sure all the legal aspects, such as Health and Safety, are covered. We can also support you with practical issues such as fundraising equipment, booking a stall etc. Speak to your mentor for further details.
NCS (National Citizenship Service)
NCS is a once-in-a-lifetime opportunity that helps 16-17 year olds build skills for work and life while taking on new challenges and meeting new friends. It gives thousands of young people the chance to meet others from all backgrounds and tackle outdoor challenges whilst making a difference. It usually takes place over several weeks and features a short time away from home and project work in the local community. A focus on social mixing, regular guided reflection and social action projects led by young people makes NCS a unique and fulfilling experience.
For more information visit: www.wearencs.com/