Read Aloud and Immersive Reader in Microsoft 365 Apps
Found under the View tab of the ribbon in Word online Immersive Reader is a feature that presents a document in an easier format and can even read it aloud. The immersive reader is most effective when used within the Microsoft 365 online version of apps with some limited features available in desktop applications.
If you have the desktop version of Word instead of the full Immersive Reader you have Read Aloud which can be found under the Review tab of the ribbon; which is perfect for proofreading assignments and written work.
Immersive Reader
Immersive Reader can read your text aloud by word or document with text to speech. You can change the speed, sound, and even the language of the reading voice.
To suit your visual preferences you can easily adjust the formatting of the text including; column width, page, and font colour, text spacing and font size. You also break up words into Syllables and have different parts of speech; Nouns, Verbs, Adjectives and Adverbs, highlighted in different colours.
The line focus feature can be used to limit the number of lines of text that are showing like a reading ruler. With Picture Dictionary if you click certain words it will show a picture. You can also change the language, either by word or full document by using Translate.
Why not check out this 'How to use the Immersive Reader' Microsoft training video below to find out more:
We recommend completing this walk-through guide created by Microsoft to fully get grips with the Immersive Reader.
Read Aloud
Read Aloud is found under the Review tab on the ribbon in Word's desktop app.
Using Read Aloud allows you to sit back and listen while the computer reads your work back to you.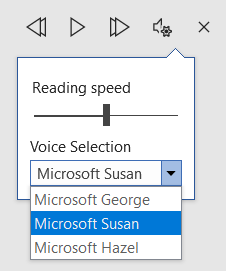 You can play, pause, skip forward or backwards, adjust the speed of the voice, and there are a few different voices to pick from.
This is great if you struggle with reading and a brilliant way to proofread your work. This way you hear exactly how it sounds to others that would read your work. It means you will pick up mistakes and incorrect word use more easily.
You can then pause the reading to edit the document, then start the Read Aloud again to hear how it now sounds with the adjustments.
Read Aloud can make a big impact on your English, spelling and grammar, as you pick up on errors getting it right the first time, not in the resubmission.
Frequently Asked Questions (FAQs)