Getting Started With OneDrive
OneDrive is a cloud storage system that is connected to your Microsoft 365 account and college email address. You can access this on any internet-enabled device in and outside of college for example at home.
With OneDrive, you can:​
Upload files from your device

.

​

Share files with others.

​

Give others permission to 

edit files and work on them 

at the same time.

​

Get to your files from 

anywhere, on your 

computer, tablet, or phone.

​

Sync OneDrive to your PC or 

Mac, so you can access your 

files even when you're 

offline.
​Watch the video above to learn more about how you can get started with OneDrive.
Restore previous versions of files on your OneDrive
In OneDrive, you can restore and recover previous versions of files.
When you hover over or select a file, next to the file name select the Ellipsis three dot 'Show more actions' button for the folder or file of which you wish to restore a previous version.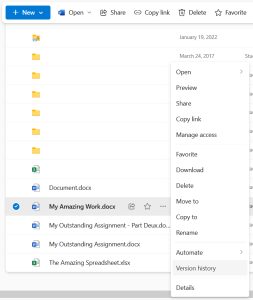 Select the 'Version History' option in the menu.
Examine the version history list for the selected file or folder.  To restore or open one of them select the Ellipsis three dot 'Show more actions' button to view the options for the version you wish.
To restore this version of the folder or file, select 'Restore' from the menu.
Getting Started With OneDrive