Places to Eat
Our catering facilities are open for all students with hot and cold drinks available throughout the day from our vending machines which are situated around the campus. There are a variety of healthy food and beverage options available from the following catering outlets:
Radmoor Restaurant
Opening Times:
Tuesday – Friday: 10am – 12pm (coffee, cakes, biscuits)
Tuesday – Friday: 12pm – 1:30pm (lunch)
Thursday Gourmet Special: 6pm – 10pm (last orders at 7:30pm)
The Box Office (The Hub):
Monday – Thursday: 7.30am – 3.00pm
Friday: 7.30am – 2.30pm
Breakfast: 7.30am – 11am
Lunch: 11.30am – 2pm
Snacks, hot and cold sandwiches: all day
Cafe Chino (B-Block):
Monday – Friday: 8am – 2pm
The View (The Hub):
Monday – Friday: 11:30am – 2pm
Free meals are also available for eligible students find out more here.
The Box Office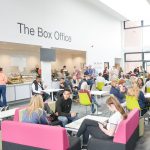 Located in the HUB The Box Office Café* offers Food and Drink and a large seating area for you to spend time between lessons with friends.
You can get hot and cold drinks, Food including: breakfast items, lunch items including sandwiches baguettes, and some warm food options. There are also snacks available.
The View
Located on the top floor of the HUB The View offers full hot meals and a large seating area for you to spend lunchtime with friends.
Café Chino
Café Chino is located in B-Block (2nd floor) – You can buy drinks, snacks, breakfast and lunch (meals both warm and cold).
As this service is student-run, it is not available out of term time.
Radmoor Restaurant & Bar
Located in the Radmoor Centre the Radmoor Restaurant & Bar offers a friendly and inviting environment where you can enjoy fabulous food and drink. Our talented chefs use delicious, fresh produce sourced from quality, local suppliers so whatever you order you can be sure that your food will be of the highest standard. We also offer a range of hospitality packages for special events, dinners and private functions, as well as conferences and meetings.
At The Radmoor Restaurant and Bar, we are proud to offer great service and food at extremely competitive prices. We are only able to offer such excellent value because we are a training restaurant food is prepared, cooked and served by students of Loughborough College.
Please book your tables in advance where possible to avoid disappointment: Radmoor Restaurant
The LSU College Shop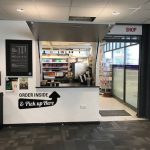 The LSU College Shop can be found in S-block next to the L-Block entrance.
The shops offer drinks both hot and cold with a Starbucks takeaway window, confectionery, snacks, meal deals and stationery.
Opening Times are posted outside of the shop.
Reprographics and Stationery Shop
The College has a Stationery Shop which is in B005 at the far end of the ground-floor B-block corridor.
Call 01509 618380 to check current opening times.
If you have a student Bursary Fund Stationery Voucher for stationery, it can be spent here on items you need for your course.
Our prices are very competitive and much lower than other local providers!
We also provide a Printing and Binding service to students. This is subject to waiting times during busy periods.