What is Remote Desktop?
Remote Desktop is a method by which you can log in to the college network from anywhere as if you were on the college site.  Although it has some limitations it's a great way to gain access to your files and the software on our system.
To begin using our remote desktop you would need to download the file below.
You can find more detailed instructions below.
Connecting to Remote Desktop
The first time you connect, you will see this message.
Connecting to Remote Desktop
Tick the 'don't ask me again box' to stop this warning from appearing in the future. Then click "Connect" to start the connection.  After this, you will need to enter your credentials: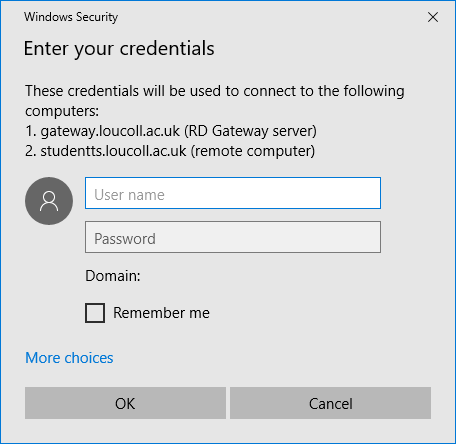 Logging into Remote Desktop
This will be your college username and password, however, you will need to enter Charnwood\ before your username. e.g. Charnwood\123987
Click OK and you will then you will be connected to the remote desktop service.
Frequently Asked Questions (FAQs)
What's my username?
For Remote Desktop your username is your Student ID.  For example, 123456.  However, you will need to put the domain name before it.  The domain name is called Charnwood.
For example, Charnwood/123456 and the use your normal password.  If you have forgotten your password go to your.loucoll.ac.uk to reset it.
Note: Make sure you use a FORWARD SLASH which leans forward /  DO NOT use a BACKWARD SLASH which leans backward \
My password isn't working.
You should check you have entered your password accurately.  If you think your password isn't working you can reset this at your.loucoll.ac.uk
Can I look at anything on Remote Desktop?
You are subject to the terms and conditions of the Loughborough College network and you should only access content that is both safe and legal in the UK.  Whilst connected to this network your activity is tracked and logged.
My webcam, speakers and/or microphone isn't working on remote desktop.
It may be that whilst connected to the remote desktop that many of the hardware devices on your computer won't be usable.  For example, using Microsoft Teams on the remote desktop service won't recognize your webcam, speakers and/or microphone devices.  You will be able to use your keyboard and mouse as normal.
I can't connect to the remote desktop at all.