To install the Office apps on your computer you will need to be an active student at the college.  Log into your account at http://portal.office.com/
Starting the Office Installation
To start the installation process find the 'Install Office' button.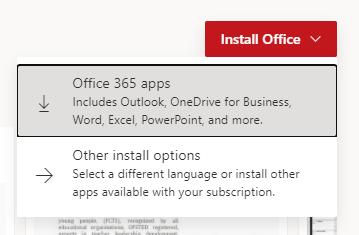 Installing Process
Once you've selected the option to install you will notice an installation file download.  Run this file to start installing Office.  The process will probably take 10 to 15 minutes to install.
Your Office365 Licence
If you choose to install Office365 it will only work for as long as you have an account at the college.  However, if you move to another institution that has an Office365 licence, you can sign in using your new log in details and it should work.
Frequently Asked Questions (FAQs)
I can't install Office.
Make sure you are using the correct operating system.  You may also need to check you have space on your device.  The apps work well on Windows-based operating systems.
Office has stopped working.
You need to make sure you have signed in using your Office365 username (email) and password.  If you have left the college you may no longer have an account and won't be able to use the software.