Resetting Your Password
Forgetting your password is the most common problem.  However, it's extremely easy to reset your password yourself.  You will need several pieces of information to carry this out.
You will require all of the following:
A device, a browser, and an internet connection
Your Student ID / Student Reference No.
Surname, Date of Birth, and Post Code
How to Reset Your Password
Visit your.loucoll.ac.uk on your device.  Enter your Student ID / Student Reference No. and then click the next button.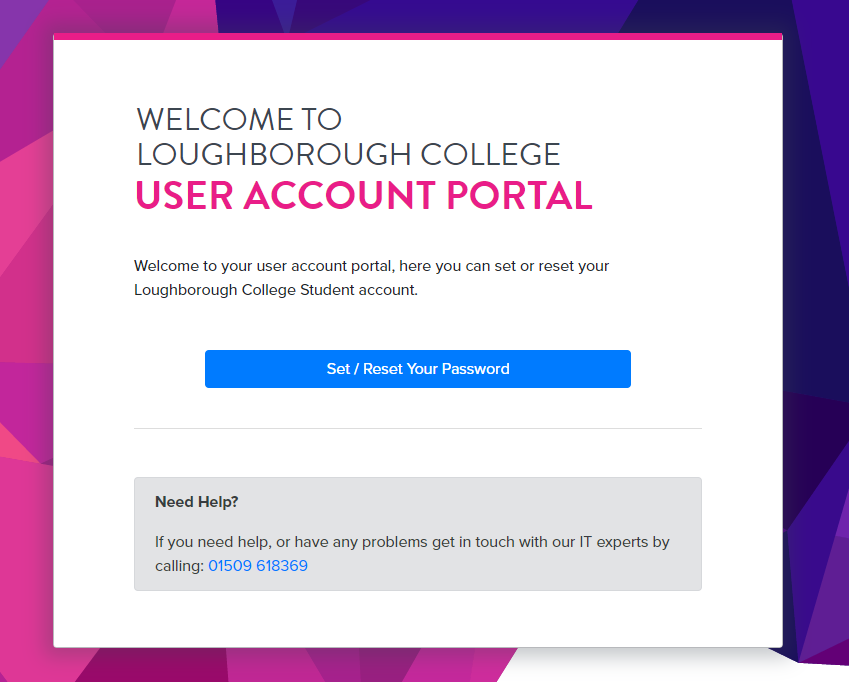 Enter the required information and click the next button.
Complete the process and your password will be reset.
Password Security Advice & Tips
Here are some hints and tips for creating a secure password:
Do not use personal information. …
Do not use real words. …
Create longer passwords. …
Modify easy-to-remember phrases. …
Don't write them down. …
Change passwords on a regular basis. …
Use different passwords on different accounts. …
Do not type passwords on devices or networks you do not control.
Check the strength of your password at https://password.kaspersky.com/
Frequently Asked Questions (FAQs)
I don't know my student number.
Please contact the IT Support Helpdesk at ITHelpdesk@loucoll.ac.uk.
I've forgotten my password.
Please goto your.loucoll.ac.uk
I can't login to Microsoft Office 365 and/or Microsoft Teams
To login to Office 365 or LearnZone you need to use your full email address (e.g. 123456@student.loucoll.ac.uk)
I have enrolled but I haven't received an email with my account details.
Please contact ITHelpdesk@loucoll.ac.uk and they can check to see if your account is active.
I've forgotten my student number.
Check on the front of your college student ID badge.  Contact ITHelpdesk@loucoll.ac.uk armed with all of your personal details and they should be able to help you, assuming they can verify you are who you say you are.
Can I have additional help to reset my password?
If you need help, or have any problems get in touch with our IT experts by calling: 01509 618369
I have reset my password, but I still can't log in.
Make sure the system you are trying to log into doesn't require your email address.
Remember some systems require your email address (e.g. 123456@student.loucoll.ac.uk and your normal password.  Others require you to enter the network and Student ID (e.g. charwood\123456) instead, and others just require your Student ID (e.g. 123456)
If you need help or have any problems get in touch with our IT experts by calling: 01509 618369